Case Study – Jo Beer
Express your Why to connect with new clients.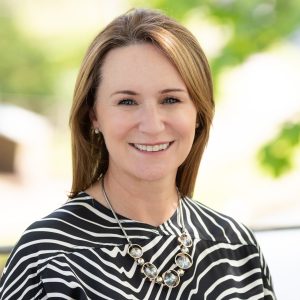 "Catherine really knows her stuff and is so much fun to work with, I looked forward to our sessions. If you're thinking of working with her, don't overthink it, just do it!" – Jo Beer
Background
Jo is the Founder and Director of Bursary Assessment Associates. Jo and her team manage the bursary application and assessment process independently on behalf of independent schools, helping bursars to make funds go further to support those most in need.  
In late 2021, Jo was invited to speak at a breakout session at a key industry conference taking place in March 2022. Jo turned to Catherine for one-to-one speaker coaching to help her hone and deliver her message with confidence and clarity.
Jo's goal
Jo would be running the breakout session alongside one of her clients. The goal was to create and deliver a seamless presentation with her co-presenter to engage her audience and build interest in her company's services.
How the coaching worked
Catherine and Jo first met up before Christmas 2021 to discuss Jo's objectives and start planning her approach. They discussed a framework for her presentation and prepared a plan of action to help her achieve her goal.
In the run up to the conference they had 8 online coaching sessions of just over an hour each. Several of these took place during Jo's busiest time of year so Catherine flexed the timings to fit in with Jo's schedule and suggested ways she might carve out time to prepare her talk.
Catherine helped Jo to strike a balance between what the audience wanted to know and what Jo wanted to say. She gave Jo constructive feedback to improve and enhance her script.
On the practical side, Catherine shared some tools and techniques to help Jo command the room. They discussed how to use body language without distracting your audience, where to focus your eyes, and Catherine convinced Jo of the value of speaking with minimal slides.  
What happened next
A confident, well prepared and practised Jo and her client delivered a hugely successful presentation (with minimal slides!) to a packed audience with standing room only. By the end of the session, Jo had a long queue of people waiting to speak to her and now has a growing list of interested prospects to follow up with.
The coaching has been invaluable for business growth and has filtered into other areas of Jo's business. Jo now starts any form of communication with her key messages rather than a supporting slide deck!
Jo says,
"The conference was such a huge opportunity to promote my business. It was an honour to be invited to speak. I set myself high standards and put pressure on myself to do a good job.
But this was a whole different type of pressure. I was very experienced at presenting in corporate environments but this was the first opportunity to represent my own business. I knew I needed some guidance and chose Catherine for her credibility as a coach and her own experience as a business owner.
I welcomed her pushing me out of my comfort zone and making me try things I'd never considered before, like including sales messages and speaking without the support of powerpoint slides.
On the day I felt well prepared and excited for the opportunity to share my message with my audience. When I finished the presentation and saw so many people waiting to speak more on the topic, I was elated.
Catherine really knows her stuff and is so much fun to work with, I always looked forward to our conversations. She makes you feel like you're leading the session and always brings you back to your key message and objectives if you stray off course. If you're thinking of working with her, don't overthink it, just do it!"
Are You Ready to Stand Up, Speak Up & Stand Out?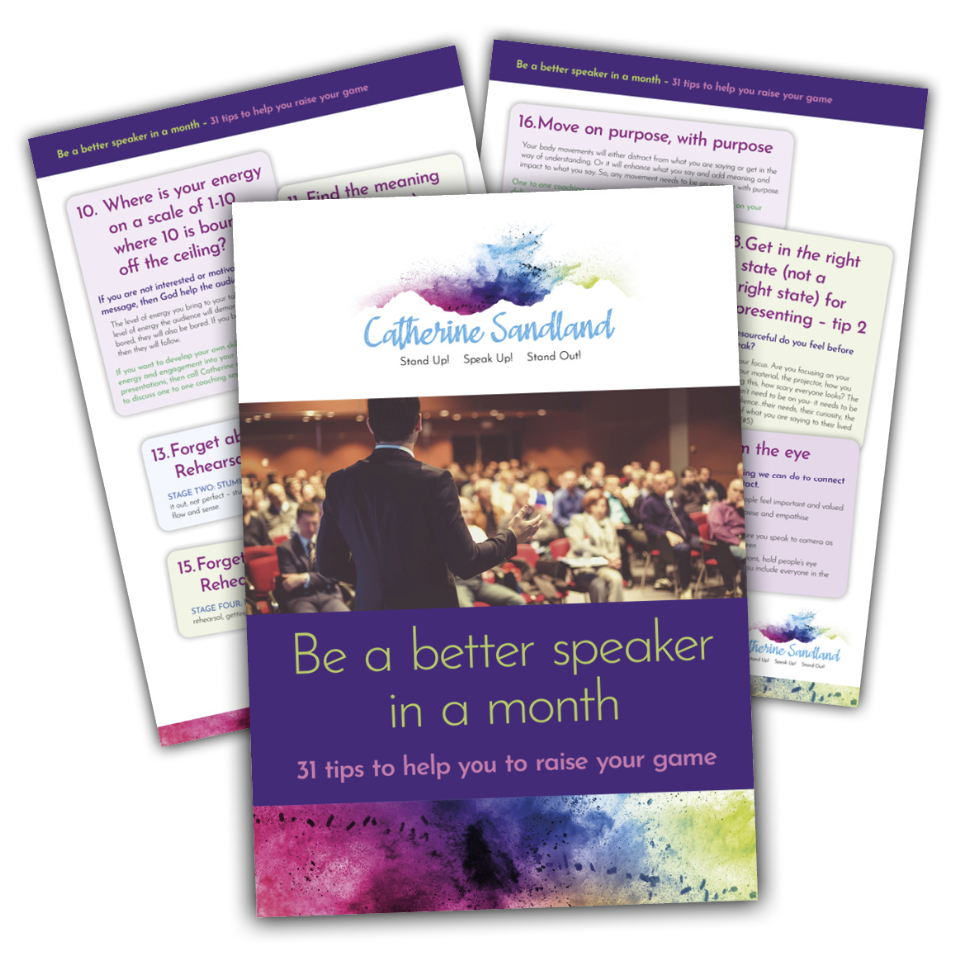 Would you like 31 tips for speaking that will help you be an even better speaker…