Case Study – Ashley Costello
TEDx talk speaker training.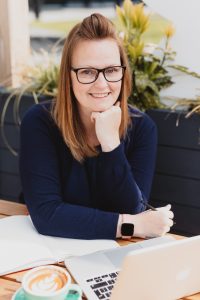 "When you only have 10 minutes to share your big idea with the world, it makes sense to work with an experienced coach who's done it herself." – Ashley Costello
Background
Ashley is a psychotherapist and founder of The Resilient Kid. She supports children, adolescents, students and their families with one-to-one therapy to help them boost their resilience and manage their mental health. 
In 2019, when she was selected to speak at TEDx Northwich, Catherine supported Ashley with speaker training. 
Ashley's goal
Ashley had a big idea that she was passionate about. She wanted to create and deliver a memorable TEDx talk. Her goal was to deliver the talk and for it to resonate with just one person who might be interested in speaking to her about it afterwards.
How the training worked
The training was a mix of group and one-to-one sessions. At the first group meeting each speaker delivered their prepared talk and received scripted, constructive feedback from Catherine and their peers.
Catherine helped Ashley to develop her key messages, to craft and structure her talk, and deliver her words with clarity and impact. During one-to-one delivery coaching, they discussed how stance and body movement develops muscle memory, builds confidence on stage and can help you remember your script. 
Ashley learned techniques to connect with her audience, including mastering the art of two-way conversation without verbal engagement. Catherine supported her with script editing, helping her to refine and enhance her ideas. 
Two weeks before the event, Ashley had second thoughts and considered pulling out of giving her talk. She was going through a bereavement and questioned whether it was the right time to speak out. Catherine was there to support Ashley, to calm her nerves and empower her to give a confident performance.
What happened next
Ashley successfully delivered her big idea, 'Is education broken?'  at TEDx Northwich in June 2019. Her message didn't just land with one person, it travelled far and wide. She was overwhelmed by the number of people wanting to speak to her after the event.
Her talk prompted positive conversation amongst parents, families and schools, with teachers and teaching assistants all requesting information about Ashley's services. Within six weeks, and as a direct result of giving her talk, Ashley changed her company name and the enquiries continued to flood in. 
Ashley says,
"Doing a TEDx talk was life changing and career changing for me. The TED brand has such gravitas. I couldn't quite believe how many people wanted to speak to me off the back of my talk. The scale and positivity of the response was huge.
I absolutely couldn't have done it without Catherine's training and support. She gave me the skills, confidence and words to deliver a talk that sparked conversation and had a powerful impact on my audience. When applause broke out as I concluded, it was such a buzz. I knew I'd smashed it!
Doing a TEDx talk is hard work but hugely rewarding and for me it was absolutely worth it. If you're an aspiring TED or TEDx speaker and want your talk to have the biggest impact possible, I highly recommend Catherine's coaching. When you only have 10 minutes to share your big idea with the world, it makes sense to work with an experienced coach who's done it herself.
Catherine is the most warm, friendly, patient and calming presence you could wish for. She offers a fresh perspective, holds you accountable and is constructive and sensitive with her feedback. She's the best!"
Are You Ready to Stand Up, Speak Up & Stand Out?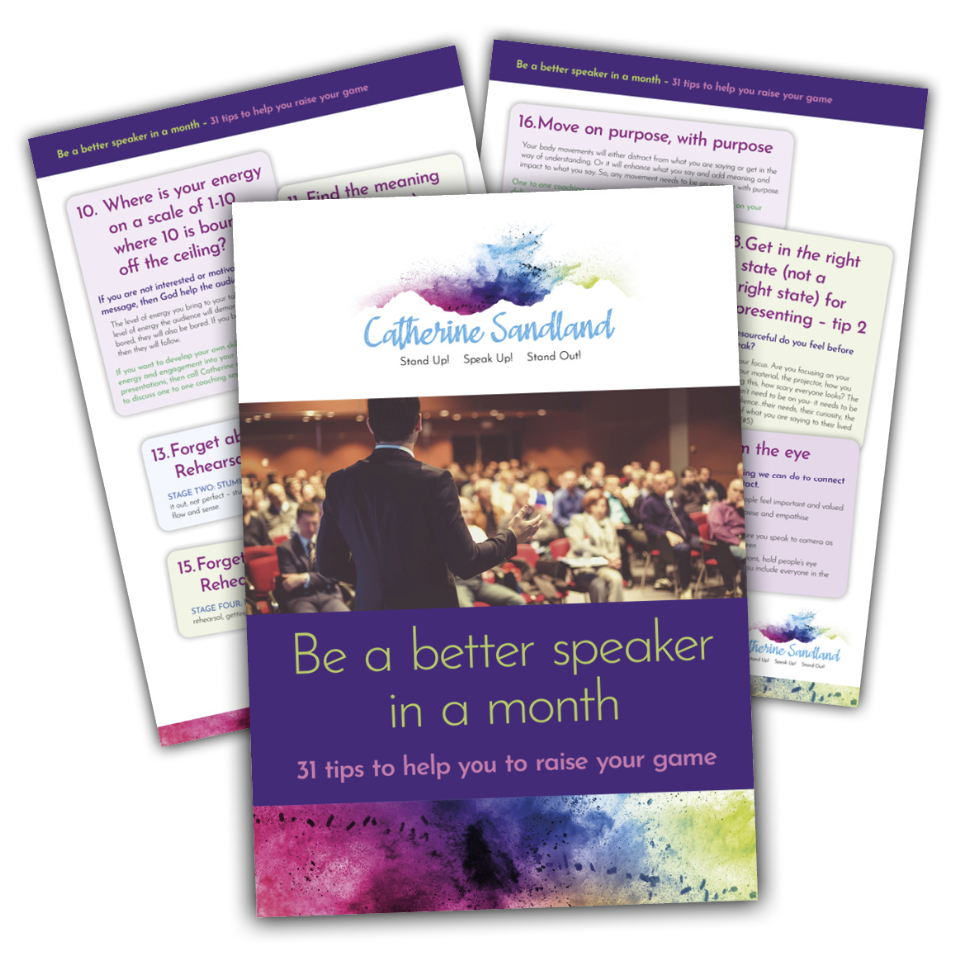 Would you like 31 tips for speaking that will help you be an even better speaker…